Every year, we get a fresh batch of budding creatives graduating from LASALLE College of the Arts here in Singapore, and every year we at Kult look forward to yet another showcase of the freshest art and design work these kids have to offer. We're here to give you a low-down of the good stuff by the BA(Hons) Design Communications graduates we spotted at the LASALLE Show 2018. Some speculative theories, subculture explorations and body art lovin' are coming your way. Read on.
You've got the Pinterest board of tatt inspirations ready. Now the only thing holding you back from getting inked is all the horror stories that you've heard - infections, botched tattoos and more. Breathe easy and check out http://www.thinkingsingapore.co/. In light of the slack legislation laws within Singapore's tattoo industry and Joshua Lumain's long-running love for tattoo art, he was determined to ease the stigma of body art. (Th)inking Singapore puts in place some good ol' trust into the system, with support from renowned local tattoo artists.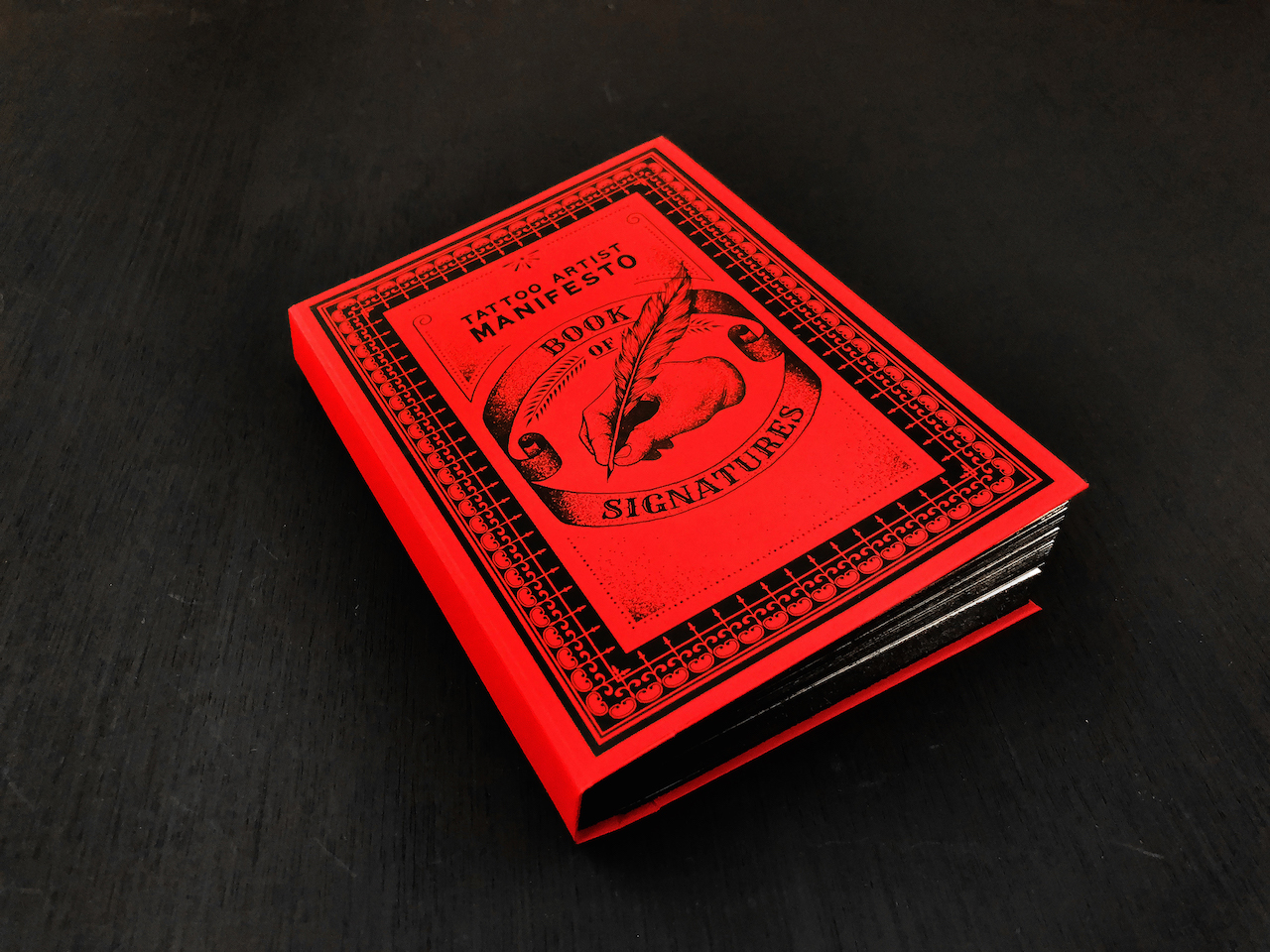 Why we dig it:
One glance and we're drawn to Lumain's characteristic, intricate illustrations - a really nice break from all the uber trendy minimalist Scandinavian types we saw a ton of at the show. From its visual conceptualisation to the comprehensive execution he has dreamt up, there is no denying the great effort and attention to detail Lumain has put into the entire project.
Joshua Lumain is a Filipino illustrator and designer based in Singapore. This one-to-watch draws, paints, sews and even tattoos. All of which he picked up by himself. Taken by his love for tattoo inking, he read deeper into its rich cultural history and roots across the globe and found flaws in the system, leading him to kickstart (Th)inking Singapore.
Debunking the whole notoriety linked to graffiti, Nur Anisa Binti Idris (Nisley) decided to pump in credibility to this stigmatised artform. Away from the public laws of vandalism, Nisley curated Streets to Exhibit at the Substation. She even took a jab at Singapore's strict public art restrictions with a cheeky piece showcasing multiple mini-mockups of SMRT trains with graffiti. Experimental phases of the graffiti process were also showcased, alongside a tagging booth for visitors to try their hand at being a graffiti artist.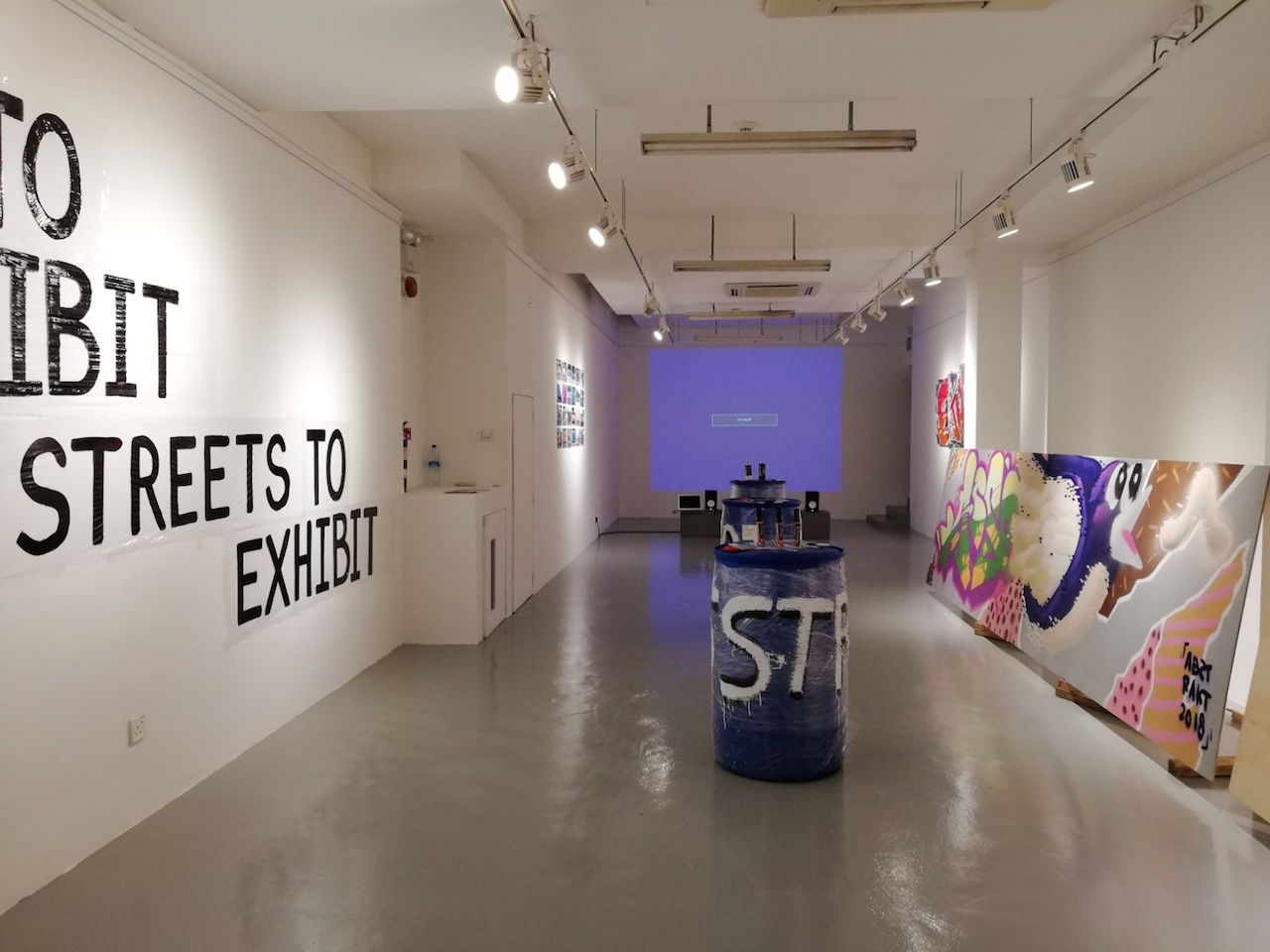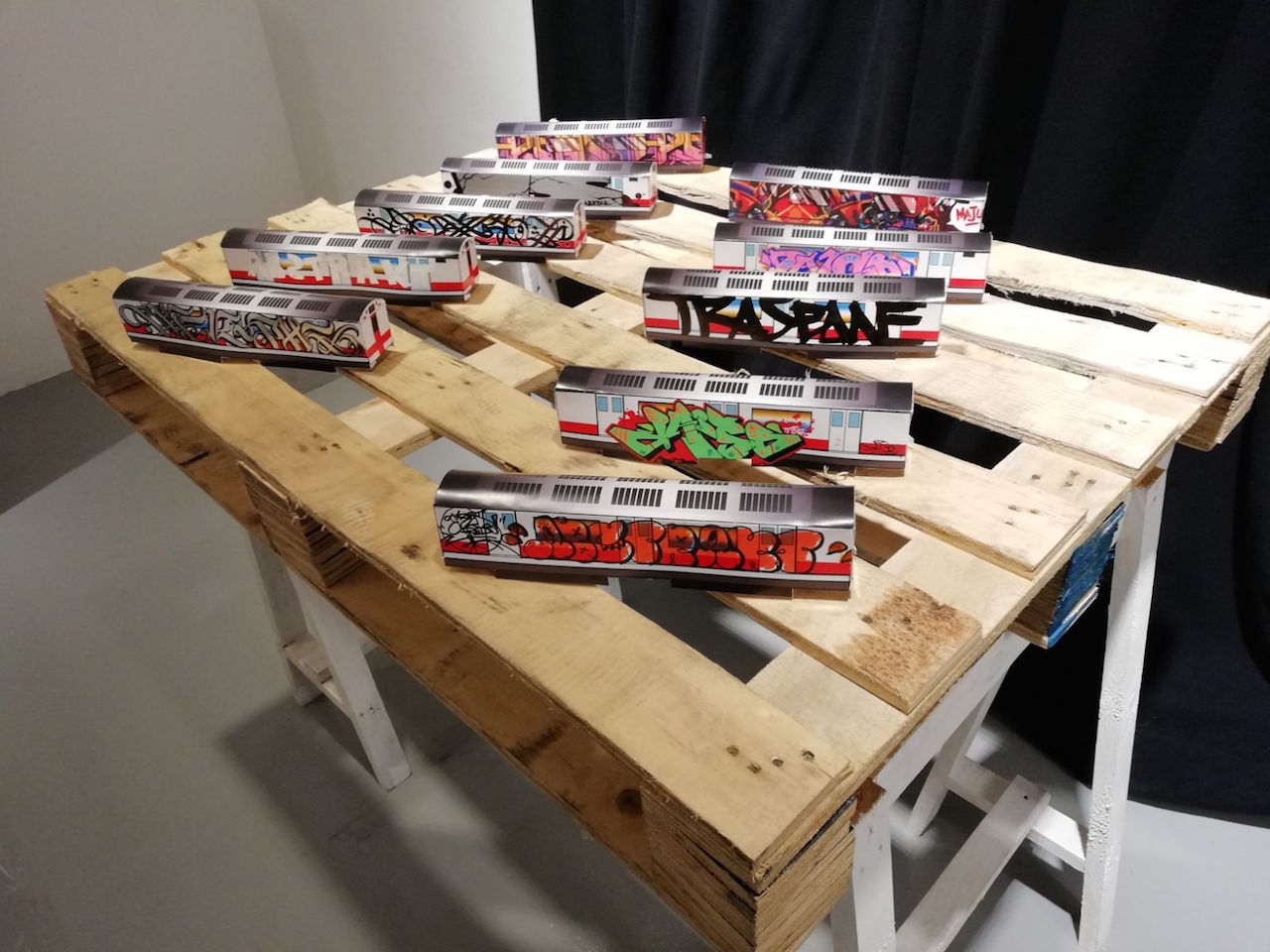 Why we dig it:
Nisley made us want to keep the conversation about street art and its discredited reputation going. Ultimately, how offensive it is first depends on the artist's tact to choose what he/she wants to say through it. Streets to Exhibit was able to highlight the positives of graffiti and capture the enthusaism and candour of graffiti. Never doubt an artform's viability, this one is here to thrive.
Nisley is a passionate designer and has been pursuing this path of visual communication since her polytechnic days. Not only is she learning about art and design in her education, she is also teaching art at Rush-Me-Not Art studio in hopes of sharing the joy of learning and appreciating this creative outlet.
Cyberpunk Visual Cultures
Bringing the digital space into reality, Samiksha Nair materialised the cyberpunk subculture with an exhibition at Canvas Club with Cyberpunk Visual Cultures. Local music acts Perilune and DJ Aman Anand helmed the decks, adding on to the futuristic flair of the funky flourescent lighting. Think Akira, Ghost in the Shell, BLAME! And Serial Experiments Lain. 13 local artists and designers were also invited along the exciting journey speculating how technology will shape Singapore's future.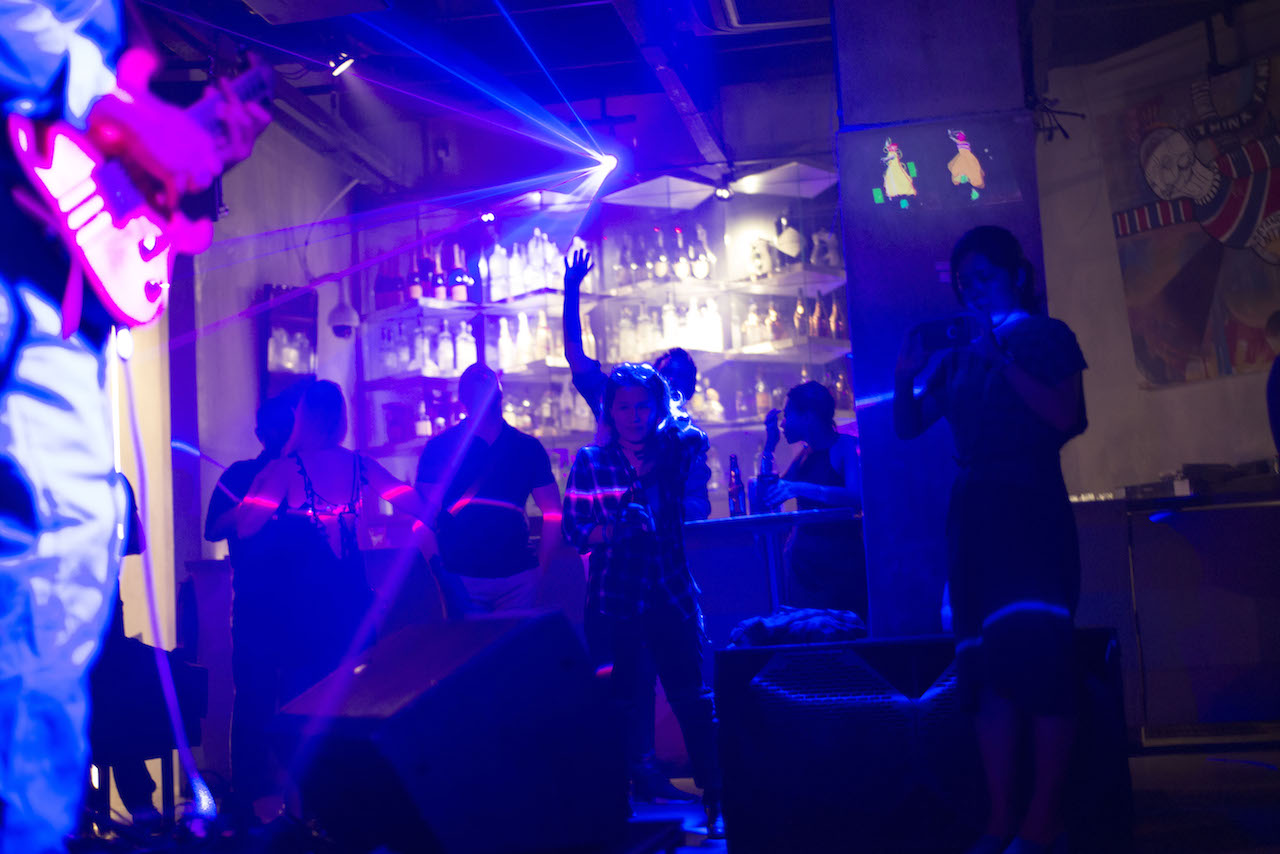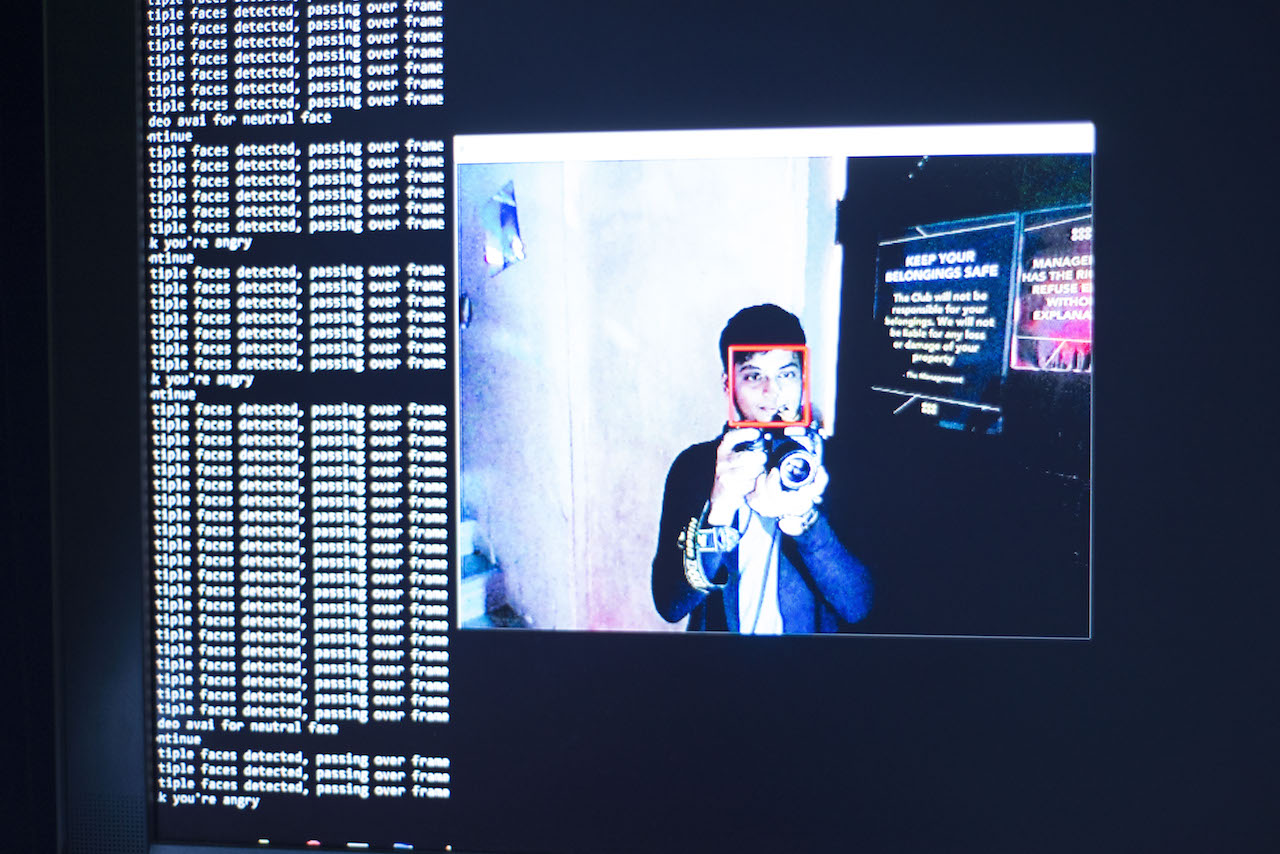 Why we dig it:
Nair's graphics are visually intriguing with vibrant colours. We loved the combination of GIFs and interactivity at the show. Visitors can stand in front of the webcam, and hold an expression which triggers a reaction from the programme. What's more, we love how Nair served up some intellectual justice to a subculture that is often only taken at face value.
Samiksha Nair is a graphic designer specialising in design research and media studies. A visual chameleon herself, she has dabbed her toes in advertising, fashion, branding and digital marketing. Having also grown up across six cities, she loves meeting and working with new people which gives her a first-hand understanding of Pacific Asia's design industry. This inquisitivity of hers also explains her open-minded view on a subculture that is often limited to the digital space.
By experimenting with different deployment of panels, Soh Xinghao conceptualised Ylang Ylang (ylangylang.co) to highlight the overlooked importance of layout structures as a storytelling device in comics. Through printed collaterals as well as a website, he discussed the closely intertwined relationship between the narrative and layout.
Why we dig it:
You instantly get a sense of his zany way of thinking through his amusing menu navigation laid out like comic panels on Ylangylang.co. Xinghao made us think about an element that is easily overlooked when we go through graphic novels. Really makes you appreciate the thorough thought that goes into effectively communicating stories.
Aeronautical engineering diploma graduate aside, Soh Xinghao has a flair for illustration and graphic design. His works possesses the same quirkiness and enthusiasm in his personality. With a portfolio that impresses and speaks for themselves, it's not hard to guess Xinghao enjoys telling stories through illustrations and making ideas come to life through visuals.
Together with Xuan Ha, Grace Duong dreamt up Mother of Mars, a speculative project about picking the best of the best in the gene pool and creating the strongest female army to champ the fictional Singapore Mars Colony. Bringing their make-believe world to reality, they set up a mobile laboratory outside Earl Lu Gallery, role playing as Mother of Mars physicians and performed tests on willing participants
Why we dig it:
Who says concepts of art and design have to be limited to a strong cultural or philosophical standpoint? Merging it with science and technology deserves more credit. Mother of Mars is intriguing and nudges you to think about previously impossible possibilities. Time to nerd out and beef up your knowledge of Mars colonisation and reproductive technology.
When she's not swarmed with her academic works and thinking about extraterrestirial possibilities, Grace Duong lends her trained fashion eye to menswear label Faculty and runs an online retail space, Spacium, that stocks quality second-hand garments sourced from all over the world.